Promise to Flower Sculpture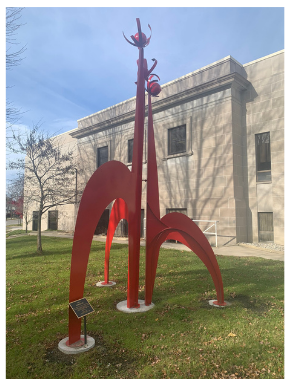 Made of steel by Ric Leichliter of Sugar Grove, Ohio, "Promise to Flower" is 20"x4'x18'
and sits next to Kaubisch Memorial Public Library at the corner of Perry and Fremont Streets.
Promise to Flower was part of the 2018/2019 Midwest Sculpture Initiative exhibit.
The Fostoria Area Visitors Bureau received a personal donation from Greg and Lesa Mullins and a grant from
The Gregory Mullins Advised Fund of The Community Foundation for Northeast Florida to purchase the sculpture
as a memorial to Greg's father, Mark Mullins.  Mark was very active in the Fostoria community from 1967 through 1984,
serving on various boards and was heavily involved in civic and charitable leadership roles before moving to Florida.